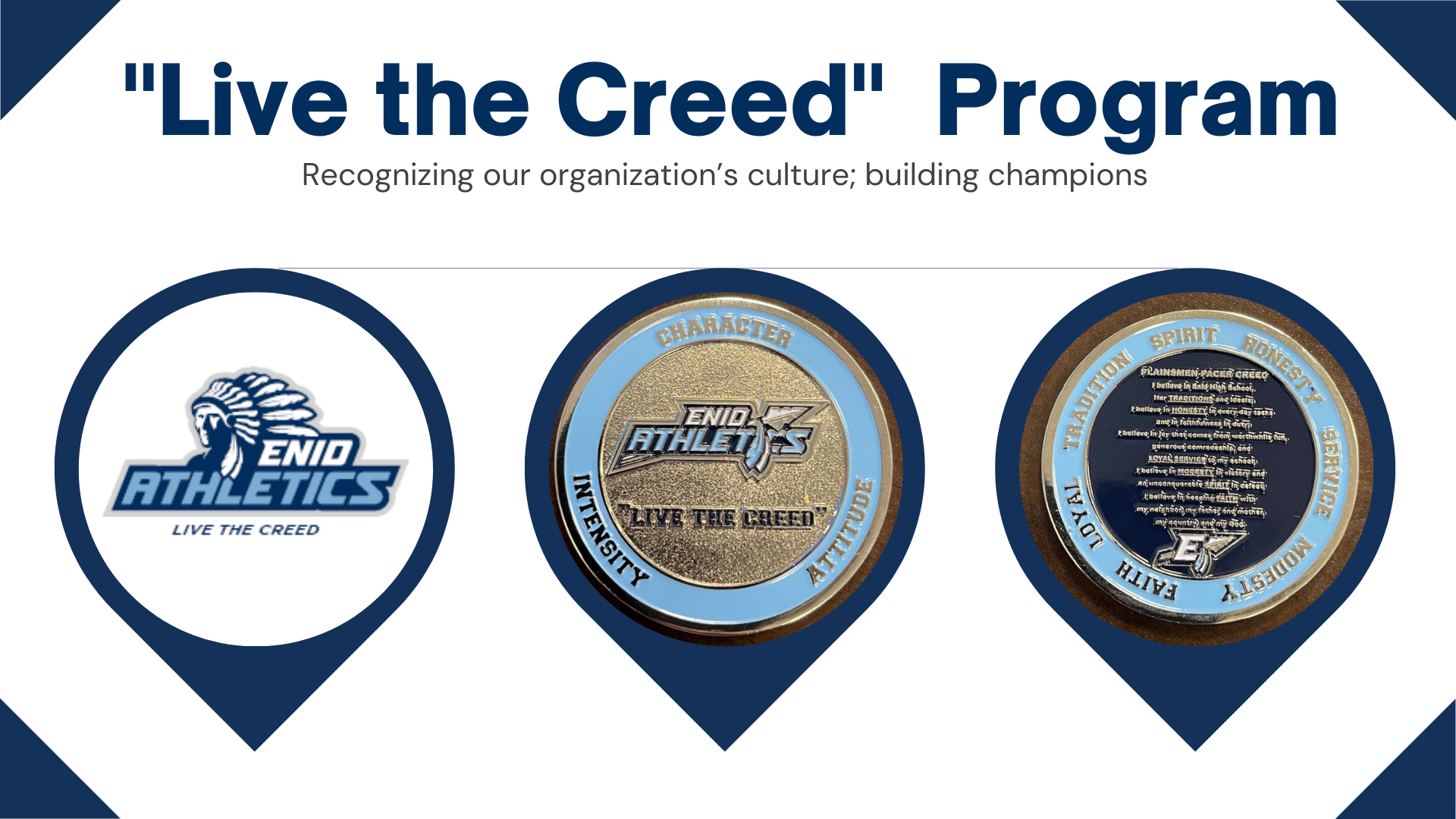 Enid's "Live the CREED" Program
Championship Traits Program – Plainsmen-Pacer Creed
"Live the Creed"
In this program the Enid Athletic department will strive to educate our student athletes on how to work towards obtaining the following lifelong championship traits. Each coach or sponsor will take time to talk with their programs on a daily basis about these traits and how they will be a guide to a successful life. We will sponsor an athlete leadership counsel as a part of the athletics department at Enid Public Schools, this program will include information about "Live the Creed" traits presented by coaches, administration, and a host of our own student athletes.
What exactly does it mean for us to "Live the Creed"? A committee was created to develop a set of criteria that truly shows what we have to do to show these championship traits on a daily basis. When a student is recognized for embodying these traits they will be publicly recognized in front of the team, community, and school board. They will be presented with an Enid Athletic Department coin/medallion for their actions.
Public recognition will help drive a culture of high expectations, we want to praise high quality actions in the media as another platform for our coaches to recognize those student athletes who are consistently exuding these championship traits.
"Live the Creed"
Tradition – Uphold the traditions of Enid High School and the Enid community.
Honesty– Display fairness and straightforwardness in conduct.
Loyal– Demonstrate a commitment to Enid High School.
Service– Contribute to the welfare of Enid High School and the community.
Modesty– Demonstrate self control by not being too proud or confident about yourself of your abilities.
Spirit– Remain courageous and positive in the face of adversity.
Faith– Maintain allegiance to yourself, your family, your program, Enid High School, and the Enid Community.
CHARACTER INTENSITY ATTITUDE